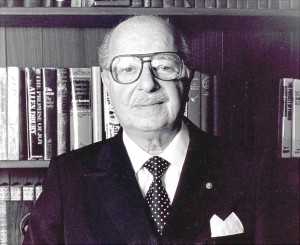 Andrew N. Farnese, Esquire personifies all that is noble, virtuous and heroic in twentieth century American life. His career is a testament to his commitment to professional and business excellence, public service and, most importantly, his faith, his family and his heritage. He has set the standard for achievement.
Mr. Farnese's distinguished career commenced with his degrees from Temple University (1927) and Temple University Law School (1940) following his graduation from Southern High School. He soon established himself as an outstanding attorney and counselor. Although his lawyer skills were in great demand from major clients, he always found time to serve the needs of the most humble client, including many Italian immigrants. His successful law practice soon attracted the attention of the corporate community. This led to the founding of Lincoln National Bank with Richardson Dilworth to the presidency of the Pfeiffer Foundation and General Compost Corp. to a directorship with Colonial Penn Life Insurance Company and to the founding of William Penn Bank.
Throughout his career, he never ignored his call of public service, first, the call to military service as an Army Ordinance Officer in World War 11. Later, he served as Special Deputy Attorney General for the Commonwealth of Pennsylvania, followed by a term as Chairman of the Philadelphia Gas Works. He was again called to duty to serve as a member and Vice President of the Board of Education of the City of Philadelphia.
Notwithstanding the tremendous demands of his professional and public business career and public serve, Andrew Farnese gave generously of his time and resources to worthy charitable and civic causes. He pioneered the creation of housing for the elderly with the founding of Casa Fermi, on Lombard Street in Philadelphia, in 1964, the first ever HUD sponsored housing in the city. He was an outspoken advocate on behalf of the city's senior citizens whom he called "the true aristocracy of our country." Three years ago, Casa Fermi was renamed Casa Farnese in his honor.
His interests also included the advancement of education, Italian language and culture and the arts. For his efforts in these endeavors, he received numerous awards, decorations and honors, including the Papal Decoration of the Lateran Cross-First Class, the decoration of the Grand Ufficiale, Republic of Italy and the Purple Astor Award, Order Sons of Italy in America.
Andrew Farnese enriched the community. His vision, dedication and passion for life distinguished him as "the First Man" in Philadelphia. The inaugural Farnese Symposium on Aging honors his vision and innovative thinking on behalf of the aged and seeks to provide a forum to address the challenges of aging in our community.